I finished reading this a few weeks ago: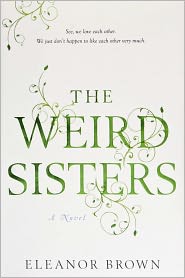 This book was recommended to me by my mother who was given the task of reading it for her book club (I am totally jealous that she is in a book club and I am not). AND I thoroughly enjoyed it! In fact, I almost went to the shed and dug out my Shakespeare anthologies :-). Shakespeare??? Well, the three main characters are named after his characters and of course, their personalities are closely entwined with their namesakes.
Not a fan of Shakespeare, don't worry--I got wrapped up in the three lives of the very different and difficult sisters. When the book opens the characters are at low points--almost rock bottom for two of them--and it was great to see them grow and become better people. Not to mention I think the author did a really great job of exploring the relationships among siblings.