This past weekend we headed to San Clemente for a mini-beach break. I really enjoy going to the beach with my family; playing in the sun, sand, and surf is one of our favorite past times. HOWEVER, my absolute favorite thing about going out of town is that I get to read---usually uninterupted--on the way there and back! Baby sleeps, son plays DS, and hubby drives. All I have to do is make sure hubby doesn't miss an exit. That's it. The rest of the time I get to read!! Woo hoo!
I have been working on A Discovery of Witches by Deborah Harkness for a while and it has been KILLING me! Not because it was awful, but because I LOVED it so much and there wasn't much time to read it!! So this beach adventure was the perfect time to put this book to rest....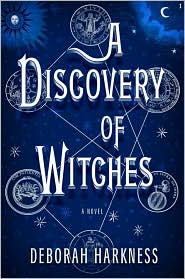 This book has all of my favorite elements: darkness, intrigue, action, suspense, romance, magic, a great cast of characters, and witches, vampires, and daemons! (Okay, so maybe daemons aren't really my fave, but they work in this novel.) ADOW also reads a bit like a Dan Brown novel--specifically the Robert Langdon series. I say this because the book offers a look back at history, it's players and relics. Of course, it's all fictional, but it's great!
Lucky for me, ADOW is the FIRST in a TRILOGY!! Yeah! (I suspected this as I was getting way too much unexplained information as the pages were ticking down.) But unlike the Twilight series (yes, I jumped on that bandwagon and am firmly camped with Team Jacob) which I read AFTER all the books had been published, I am going to have to wait until next year for the second book :-(
Have a happy day and really hope you check this book out!!